We have been very lucky to have some fine musicians join us from time to time, so we would like to honour our distinguised musical compadres. 
MARCUS SCHINTLER
Marcus Schintler joined us on drums and production for our first CD 'Before I Met You' and jumps in with us whenever the opportunity suits.  Marcus spent many years as the drummer for Weddings Parties Anything, and also drums for the surf punk outfit, the Wetsuits.  We are grateful for Marcus' industry experience, tea-spitting wit, heavily grounded common sense, and constant reminders that music is a rare joy as precious as a rat's gold tooth. That's Marcus on the right with a very tasteful Hawaiian shirt.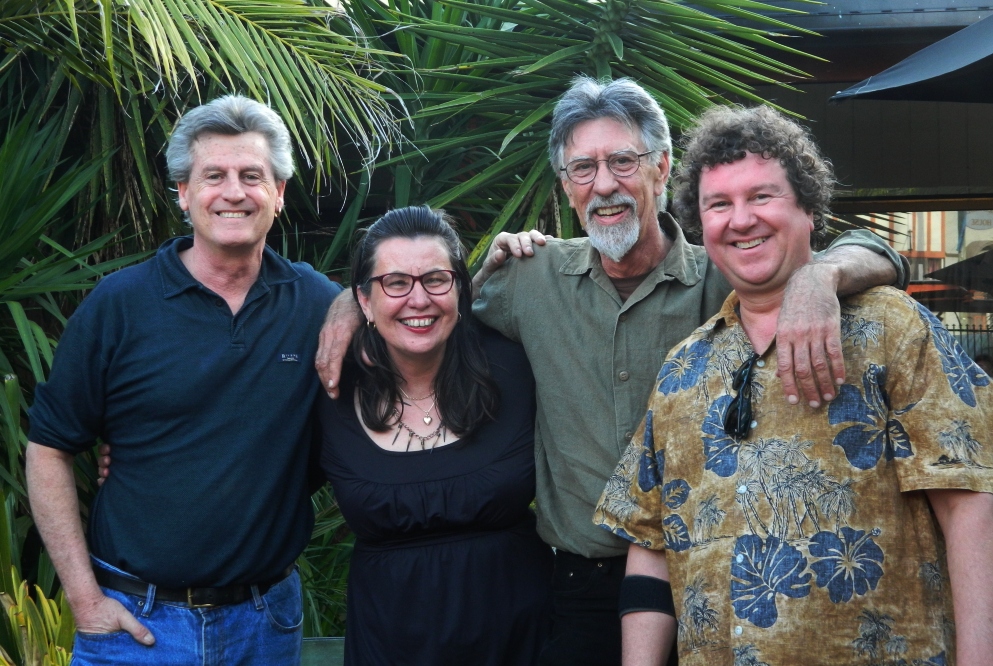 BRETT HAMLYN
Brett Hamlyn recorded our first EP at his Deva Studio in Eden Creek, west of Kyogle.  Brett features on bass on Misery Loves Company and Boots Beside the Bed, and is the bloke on the left in the image above. 
JOHN WILLSTEED
John Willsteed was once in a gentle alt-country urban shoegaze outfit called Disgraceland, which also featured Kym Watling, Coojee Timms, Tony Von Wieldt, and Michael Hiron.  This band hovered around Brisbane from 1993-2008, disbanding once Watling headed south, and Willsteed found his forever home in Halfway. John laid down some beautiful 12 string and slide guitar on Highway Prayer on Before I Met You and we love him dearly.  We love him so much we want three of him.

KIRK STEEL
An old friend of Bates' from way back, Kirk Steel is the acknowledged King of the Keyboards.  Now up in Cairns with his lovely partner Gail Betts, Kirk dropped some authentic honkytonk piano on Misery Loves Company from Before I Met You.  Kirk's long-distance relationship with Unumgar was facilitated by Nigel Pegrum from Pegasus Studios in Cairns QLD, and Brett Hamlyn from Deva Studio in Eden Creek NSW.  Here are Geoff and Kirk against the eerie backdrop of Black Mountain.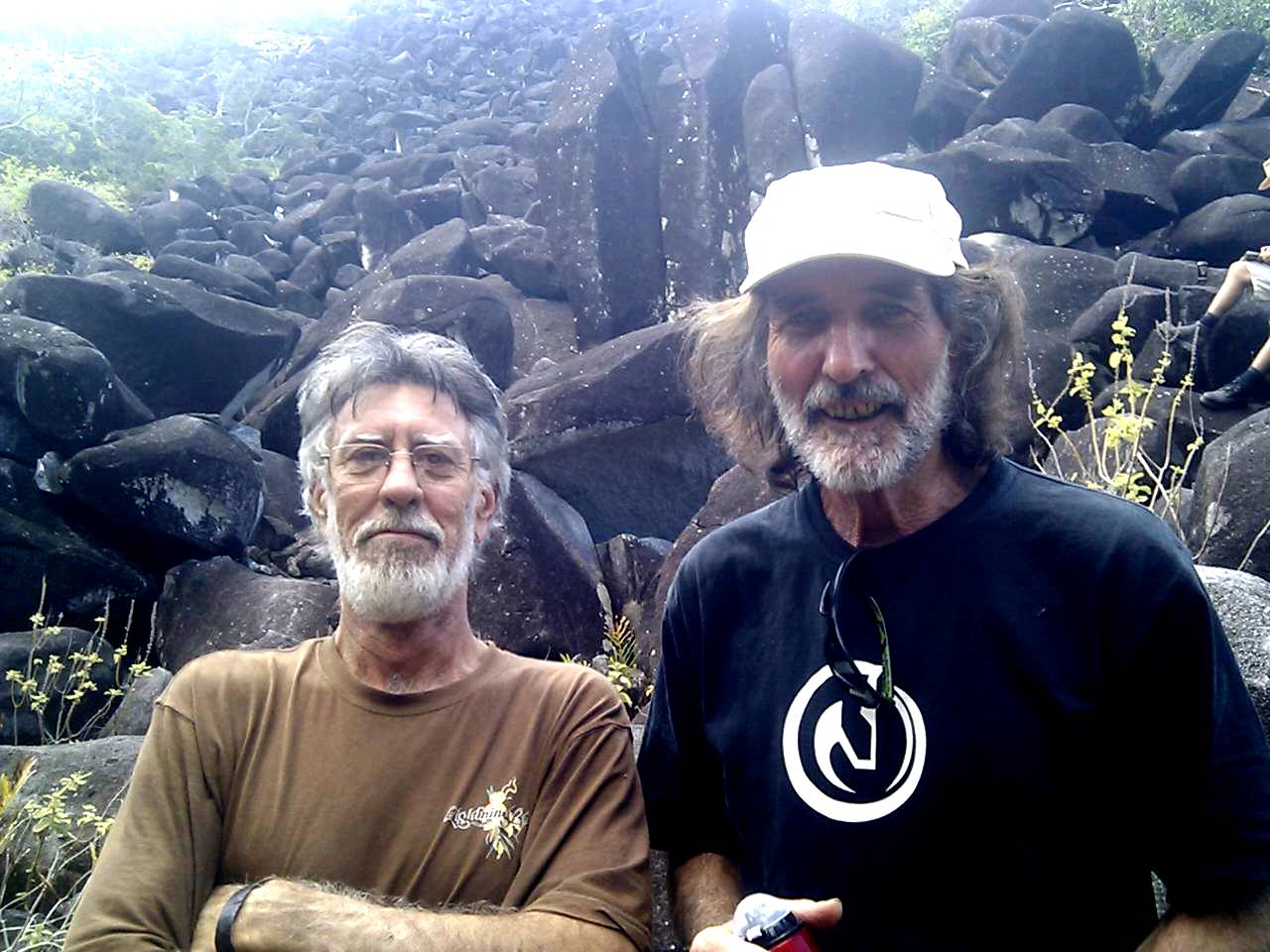 JOHN MCDOWALL
John Mcdowall grabs his stool and joins us when he tires of selling Bodhrans to Ireland. A masterful player and holder of the Celtic tunes, John keeps us honest and makes sure we know a jig from a reel.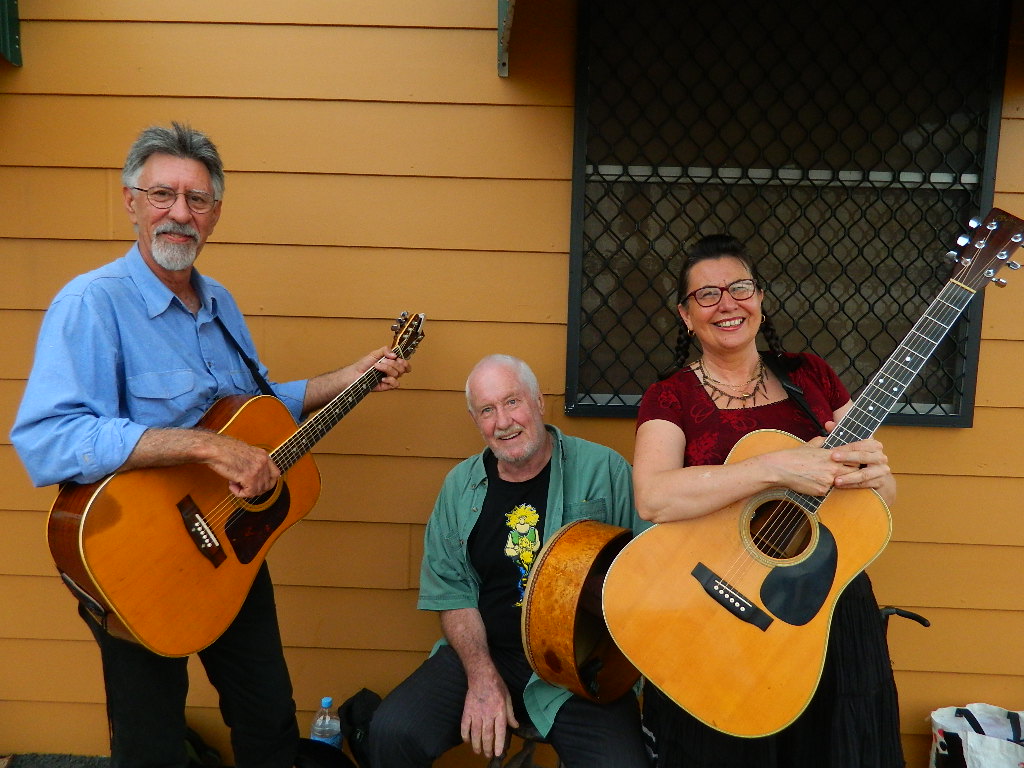 HILTON FATT
We have recently been privileged to be joined by Hilton Fatt on bass.  Solid, clever, and lyrical, his bass qualities are a joy to behold and a pleasure to experience. Hilton's beefy bottom end is most welcome at the house of Watling & Bates, and we are most grateful that he has come on board with his musical talents and background in production.